Full Lineup Poster
This summer, two sets of alphabetically arranged electronic, alternative, and hip/hop related talents will be descending upon the Neckar River to bring you two days of music and fun based at Wertwissenpark and the Freibad Neckarhalden.
Insta Layout (the insta is REAL!!!)
This is my thesis and the only premise I had at the beginning was a design aesthetic that was flowing and moving, unique, and held in the park that is quite literally down a long set of stairs from my grandparents place in Germany that i'd visit over some of the summers growing up.
Insta Collections of Artists
That park is home to a lot of great memories from when I was growing up and is attached to a massive multiple pool complex on one of the ends. The idea to base it here came when considering where I wanted a music festival to be after contemplating the idea of designing one. I remembered how the park already holds concerts and the pool complex holds water based events and wanted to find a way to bring them together here.
Insta Posts
What I did with this festival was try to create something new based off an interesting idea that hasn't been executed yet (a to z lineup) within' the festival market, add a personal spin to it (locations), have the design be something that resonates with how the water around the area can be related to how multiple groups of fans are flowing around each other in a confined place like how water moves around a basin of sorts (Lush bath bombs).
A2Z fest website-flow
Click here for the actual thing!
Lush Bath Bombs are how i got the swirly moving designs that create the curvy art featured throughout the festival. My first idea was to photograph the chemicals that swirl when you blow a bubble. It wasn't fully successful and figured the bath bombs were a quicker and easier solution to the look I was shooting for. After a lot(!) of edits later, I created a certain combination of overlays/edits that created the basis of the yellow and black rugid look of the curvy soap in water and ran with it home.
Front of Guide
Having been to a bunch of festivals already, I have some prior knowledge about what a modern festival is and what I needed to do upon tackling the idea of designing one. With every festival there's always a guide and mine featured the map of the grounds and the proper way to put on a wristband because those are the fest goers beacon of light into the area and re-allowed the second day. It is the most important part of what a goer needs in their days at any fest. If it's too tight that's a big problem and if it's too loose it's a problem so a proper example of how to put it on always helps those new to this. Not to mention the importance of the code on the back.
Back Guide
On the back of the guide I put the set times for both days to give goers less of a time on their phones wasting battery life to figure out where to go. It should already be as easily accessible as possible in order to utilize all opportunities and timings of the festival. You can't make everything you want to go to at a fest but A2Z wants to help give your best shot at it. These are made to be delivered with all ticket packages offered.
Day 1 Wristband
If you couldn't tell already, A2Z is two days and those days are split into two colors to signify which. Day 1's color is yellow and was the original color of the fest I envisioned once creating that one edit.
Day 1 Bandana
Every bandana offered is different based on ticket package.
Day 1 Box
This is what the guide, wristband, and bandana for Day 1 ticket holders would be in and what Day 1 holders will be delivered.
Day 2 Wristband
Day 2's color is this bright blue and came later on in the process. I ended up choosing it because the brightness of this keeps tings visually catching like the yellow, while also being able to contrast it from the yellow but not have it be in a distasteful way.
Day 2 Bandana
I also liked the bright blue a lot because it reminds me of water, the bright blue specifically more for pools but water nonetheless. The area of the park is neighboring the Neckar River which runs through a huge chuck of Germany.
Day 2 Box
I almost took a note from the new electronic indoor-in-the-winter Philly festival, Hijinx, and just created GA and VIP solely from the fact they want goers to do both days exclusively as "full sends only", but with this color scheme going on I felt it'd be wrong not to keep new color variations alive throughout it's limited color palette and created 4 ticket packages instead.
GA Wristband
After working Moonrise festival 2018 and being able to see all the wristbands that go into a festival I noticed how GA was the coolest from them all and figured that's because it's appealing to the majority of ticket holders I wanted to emphasize the difference between ticket packages without including super luxurious stuff, but more unique things. If you go to the website and read about the packages it'll help. Looking at the map will also create a visual.
GA Bandana
I want to emphasize how important a bandana can be at a fest real quick and is the reason why each package gets one. For starters, they look cool and can be experimented with. They hold in sweat during those hot days out in the sun. They can also hold ice to give your head a cool down, maybe the moshpit got crazy, maybe someone passed out from heat exhaustion. These things come in handy in so many ways so I wanted everyone to have one.
GA Fanny Pack
I wanted to go beyond a traditional box as the container for the GA and give a custom A2Z fanny pack to keep that mf thang on you at all times. This is essentially what would be delivered to the goers house after ordering the package and would hold all the contents inside it's zipper pouch. I've personally been a victim of getting your stuff stolen right out your pockets at a fest and it's not fun. I knew I should've had a fanny the moment I got in the uber out of my house and my gut was right. Fanny packs are essential so those fully sending both days get one!
GA Disposable
One of the reasons many people go to festivals is the escape their everyday lives for a unique experience that is so unlike their day to day that it creates an amazing array of memories from while in the grounds. Everyone has their phones nowadays but I've become a big fan of disposable film cameras the past 2 years and they're perfect for festivals. You don't need batteries, you have 27 shots for however long you want, you never know what it's gonna look like in the end, and it captures great memories you get to keep forever without your phone. The surprise of getting the pictures back is unlike anything else and in my opinion harnesses the same energy than that of a fest and prolongs the warm feelings from the fest after the fest being done.
VIP Wristband
VIP was like a fun experiment for me considering it had to be different from what has already been presented designwise and is the only time I incoporatew the color white into the color palette of A2Z. I choose it as a counter from the frequent use of black being the neutral to the yellow and blue yet also reminds me of the tiles the pools are lined with.
VIP Bandana
The white is technically used more often because whenever the yellow and blue meeting, there's a thin sliver of white separating the two without them coming together and overlapping to create green anywhere. It's used so little it reminds me of the ratio of VIP vs GA ticket amounts and makes for an appropriate symbolism of the # of those in GA vs the # in VIP.
VIP Fanny Pack
Since they represent a smaller select few in numbers of audience, their fanny pack had to change colors too giving VIP the opportunity to keep that thang on them VIP style! The colors are inverted showing more of the yellow and blue that make up both days since VIP gets more of a full experience being able to go into the pool complex next door, witness exclusive poolside DJ sets, and see all the unique features that make VIP the ultimate package of A2Z.
VIP Day 1 Commemorative Artist Cards
One super stellar thing you get when ordering VIP are commemorative artist cards for each day. In theory, you'd gain more to collect with each year you go to A2Z.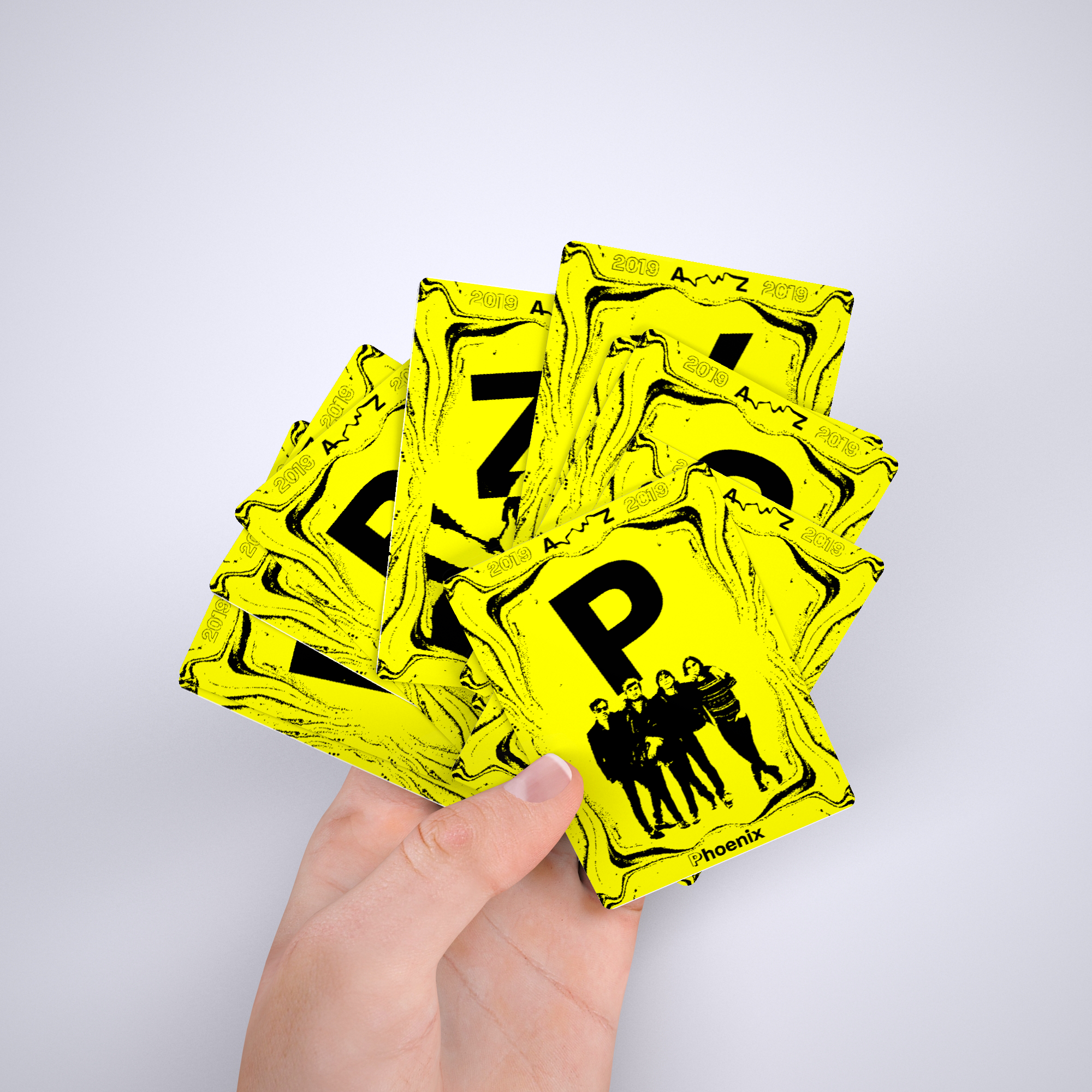 I'm a sucker for the little things like this and was inspired to do this after ordering a book on the history of clubbing during the process of this project. A club in NYC would commemorate the artists that would perform by creating a baseball card for them to give to goers.
VIP Day 2 Commemorative Artist Cards
It's the little things like this that separate fests from one another by making them unique in different ways even in the smaller things.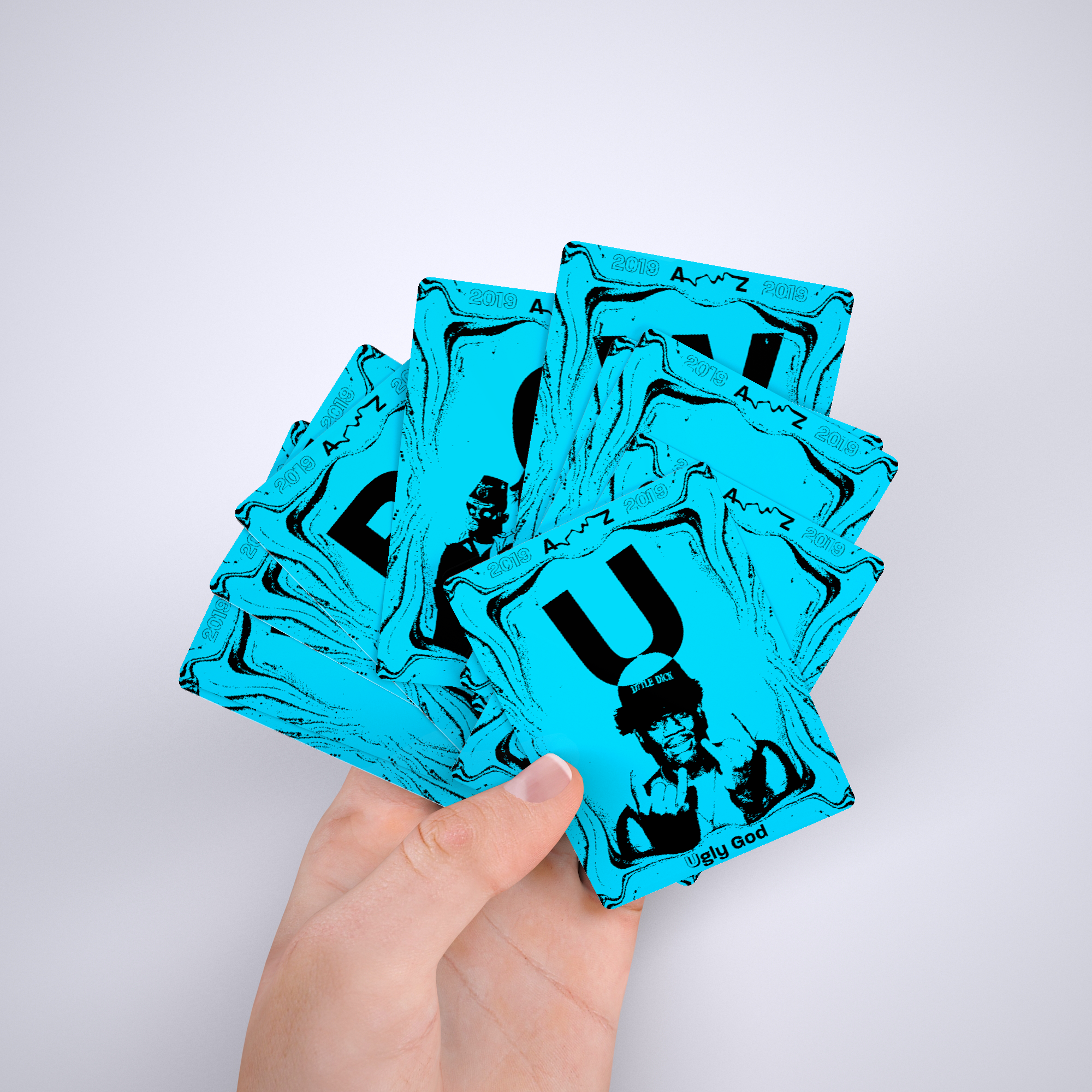 As a big fan of music and fests in general, I'd love to be given something like this to commemorate the artists that make up an amazing weekend. I could imagine others like me appreciating it either just as much or even more so i really wanted to go out of my way to create these.
A2Z Flag
The last parts of the fest include all the merch created for it. Here is the design for the flag that would be offered. Flags are pretty significant because they take on a whole new role as a visual checkpoint and meet point at fests. They can be the difference between finding someone lost or being the one to re-find your group.
A2Z Swimtrunks
Since this festival represents water, is held near water, and the VIP is in a pool complex, swimtrunks were necessary. These feature the elongated logo on the back thighs and the two colors of the fest.
A2Z Bodysuit
To counteract the swim-trunks, I created a bodysuit for women that's based off the one-off design that was only used for the afterparty set times post on the instagram and nowhere else.
A2Z Athletic Headband
The idea came from the Dogfish Head headbands i'd see everytime i'd go to Firefly because they're an official sponsor and they give these things out like candy. I haven't seen a duo color one so I created on to keep in your sweat for both days and keep on going incase the bandana couldn't do it for you.
A2Z Beach Towel
Gotta stay dry, in the heat, out of the pool or water.
I wanna use this block to bring up how you've seen 3 logo iterations this far. The main is the diagonal one featured on the lineup poster but there are 3 other variations, a elongated horizontally based logo (like on the headband previously), a consdensed horizontally based logo (like on the towel), and one with added ZZZ's to the diagonal logo for the afterparty announcements. These are meant to symbolize A2Z's dynamic movement, how it's changing like the water and the people moving around in a sea of heads. As long as the A and Z are connected in some way shape or form, it represents the connections and fluidity of A2Z.
A2Z Frisbee
Purely for the fun of it, I present to you, the A2Z frisbee.
Also in part of the festivals within' the instagram hype are 2 Soundcloud playlists compiled of 50 songs each from the artists of said day to give goers a sneak peek into what's ahead. Maybe they'll discover someone they like that they didn't listen to before the fest and now be excited to see them.
A2Z Hat
The hat is a staple in merch. This one is probably the simplest of the merch but features a gradient stroke embrodiery on the cap, a yellow bubble on the top of the hat, and under the brim would be the bright blue.
A2Z Yellow Tye-Dye
Last but not least are the tye-dye t-shirts. These feature the intertwined alphabet design that was also on the bandanas but the tye-dye is as fluid, dynamic, and everchanging like A2Z is. Every tye-dye outcomes is different technically making them as unique as the person who wears them.
A2Z Blue Tye-Dye
Two colorways to symbolize both days, some people might like the yellow more than the blue and vice versa. Might as well give the people the options considering most of the design is divided into both these colors anyways.
If you've gotten this far and haven't yet, check out the website, the Instagram, and the Soundcloud playlists during that for the full experience.
See you next year!